The R24 release of 3D InterOp is now available for download. Although they are available online, not everyone pours over the 3D InterOp Release Notes for R24 like we might hope. What follows is a shorter summary of what's new in 3D InterOp Suite R24. The description of what's new falls into three areas; new products, functional enhancements, and platform changes.

Addressing the first, 'new products' area, several additions are included in the R24 release of 3D InterOp. 3D InterOp Graphical now provides the ability to import Solid Edge files. In addition, the new Solid Edge Reader Component allows the import of product structure or exact geometry. The Solid Edge Reader Component is also available as a Direct translator or a Parasolid kernel-based translator. Still on the subject of expanded graphical import, the STEP Graphical Component in 3D InterOp now supports importing graphical PMI from STEP files.

Beyond data translation, many applications have a need to publish graphical data. 3D InterOp Graphical now provides support for writing 3D PDF files. This provides an easy way to distribute 3D information to an audience using the ubiquitous Adobe PDF Reader.

The second area describes the functional enhancements in the R24 release. This is by far the largest area with significant enhancements to every translator. As with each release, 3D InterOp R24 includes faster performance for every translator, especially for large multi-body parts. By leveraging the benefits of multi-processing, most applications should see up to 40% faster translation.

One of the unique characteristics of 3D InterOp translators is the ability to import the various data types as independent chapters of a book. Applications can selectively access product structure, graphical data, geometry, or PMI information. This offers tremendous flexibility to application developers. However, once an application imports data, R24 provides the ability to associate information between these different 'data buckets'. For example, applications can relate PMI information with the Geometry that's associated with a given GEOMTOL. Or functionality can be presented which allows a user to associate (or link) the graphical display with the associated PMI information highlighted. In other words, this new functionality provides full associativity with owning model geometry and datum / datum targets enabling the applications to walk from graphical PMI to semantic PMI similar to originating source CAD system.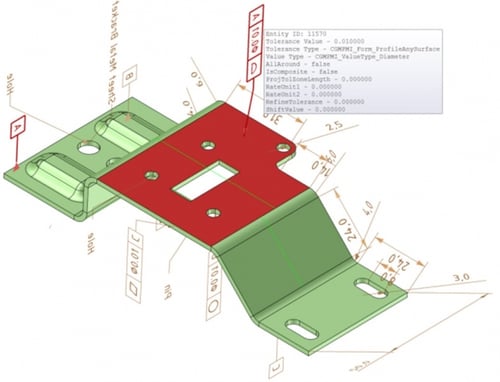 Figure 1: Linking between Graphical PMI and Mechanical/Semantic PMI

Several of the translators now allow the import of materials properties. Material properties could include name, density, or strength. This is now supported in the CATIA V5, NX, Creo, SolidWorks, and Inventor Reader Components. For even more flexibility, the CATIA V5, NX, Creo, and SolidWorks Reader Components now support User Defined Attributes (UDA). This allows applications to import custom name and value pairs.

Although platform changes are not the biggest news, they tend to affect the largest number of users. Mac OS X has changed significantly for this release. The product is now available as 64-bit binaries with the architecture name 'macos_a64'. This new 64-bit support replaces the previous 32-bit support. Microsoft Visual C++ 2010 support was upgraded to Microsoft Visual C++ 2010 (SP1). Additionally, 3D InterOp now supports the Microsoft Visual C++ 2012 32-bit compiler and Microsoft Visual C++ 2012 64-bit compiler on the Windows 32/64-bit (excluding Windows XP) operating systems.

R24 marks the beginning of depreciation for the gcc 4.1.2 (RHEL 4.0 OS), VS 2005 for (Microsoft Windows), and IBM VisualAge C++ 10.1 (Microsoft Windows) compilers. R24 is the last version that supports Windows Vista, Windows XP, as well as the VS 2008 compiler.

Hopefully, this overview has piqued your curiosity to learn more about the R24 release of 3D InterOp Suite. The best resource to see more detail is the 3D InterOp Release Notes for R24. There's also an excellent on-demand webinar 3D InterOp R24 - Much More Than Just Reading Data hosted by Vivekan Iyengar, Director of Product Development for Spatial.